Everyone knows crossword puzzles. Some love them, some hate them. The problem is often that you have to find a very specific word that fits the other words. But what if you had a lot more freedom? So if you could freely create your own word grid? Sounds too good to be true? That's right, because in addition to the freedom, there is also a fair amount of time pressure. But it's still a lot of fun.
The game is super simple and you can start straight away after a few explanations. Take all the letters out of the banana (yes, the stones are stored in a fabric banana) and shuffle them face down. Now each person takes their starting stones (2-4 people: 21 stones each, 5-6 people: 15 stones each, 7-8 people: 11 stones) and places them face down in front of them.
Banana Shake, Harvest, Compost, Everything Banana
Everyone shouts at the same time Banana shake, turn over their stones and try to form a word grid. You can see what such a grid looks like here:
Specifically, you need to pay attention to the following things. The words must be spelled correctly and be able to be read from left to right or top to bottom. The words must not be duplicates, proper names or abbreviations. As soon as letters touch each other, they must form a meaningful word.
As soon as someone manages to fill in all the letters, he or she calls out harvest and everyone must take another stone from the supply. Now the work begins almost all over again. If you're lucky, you can add the individual letter directly to an existing word. As a rule, you're not so lucky and have to rebuild your word grid. You can do that at any time. If you ever despair about individual letters, you can do so at any time compost call. You can then put one stone back into the supply, but you have to take three new ones. You can repeat this as often as you like as long as there are at least three stones in the supply.
If someone manages to fit all the stones and there are no longer enough stones in the supply for everyone to add one stone, the person calls out Everything banana. Then everyone stops the game and checks the word grid. If everything is correct, the person wins. If you find a mistake, the person is thrown out (no joke, then everything was in vain) and their stones go back into the supply. Now the remaining people try to complete their word grid.
For example, the word grid at the end can look like this: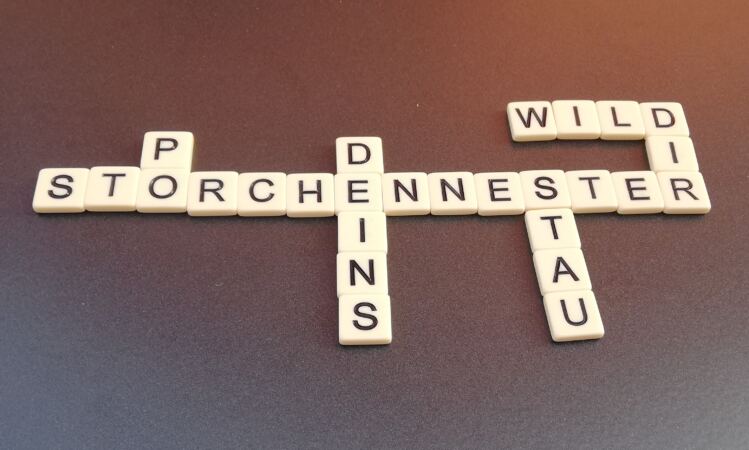 Cheerfully stressful word fun
The game is super easy to explain and you can start playing super quickly, even with new people. Plus, the game is fun, unless you're in a bind - but that's just part of the game. You then quickly notice how large your own vocabulary is and how well you can think abstractly. You have to see which words you form so that you can use up all the stones at the end. Of course you can try anything at any time, but it helps if you can plan out the letters in your head.
But don't worry, after the first game you'll notice that you're getting faster. The first few laps aren't going well? Don't worry, it'll be fine. And always never lose heart, because the more letters you have, the more options you have.
We often enjoyed the game so much that we played several games in a row. Once one person was finished, we also completed the remaining word grids
Information about Bananagrams

Number of players: 1 – 8
Age: from 7 years
Playing time: 30 minutes
Difficulty: Family game
Long-term motivation: medium
Classification: Pun
Author: -
Illustrations: –
Publisher: Asmodee, Bananagrams
Official Website: Link
Year of publication: 2023
Language: German
Cost: 12,49 Euro