The long-awaited Dead Island 2 will be released on February 3, 2023 for the PlayStation 4, PlayStation 5, Google Stadia, Windows, Xbox One and Xbox Series X. Revealed during the global live stream event Opening Night Live of gamescom 2022 Deep Silver and dambuster studios a CGI and detailed gameplay trailer.
Dead Island is a first-person action gameRPG, in which the player must survive against hungry zombies in an apocalyptic version of the megacity Los Angeles. As in every good zombie game, this is due to a deadly virus that raises the dead. The city is under quarantine and the military has withdrawn. Only you and a handful of other survivors are resistant to the pathogen.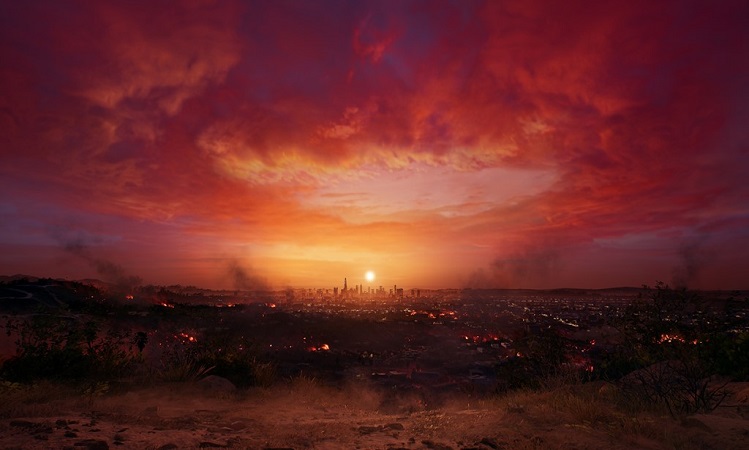 Just a normal day in LA
The winning formula of the Dead Island series is based on the combination of dark humor and an over-the-top zombie hunt. The CGI trailer shows Jacob, one of the playable characters, waking up in a luxurious Beverly Hills mansion, but all is not as it seems. As you make your way through Los Angeles, you'll witness the bloody aftermath of the virus outbreak, accompanied by the cult song Hollywood Swinging by Kool And The Gang.
Dead Island 2 takes players through the city's most recognizable locations - from the leafy suburbs of Beverly Hills to the popular boardwalk of Venice Beach. The battles offer the player the most intense first-person experience. With a wealth of weapons and lots of tactical options, you can take action against the undead. There are a total of six playable characters to choose from, each with their own personality and different abilities. These can be adjusted and improved with the help of a skill tree.
Los Angeles is teeming with hungry zombies that look realistic and can react to the player's actions. There are around a dozen different zombie types in total, each with their own mutations and attacks. As an RPG game, Dead Island 2 offers many exciting quests, unique characters and a gripping story. There will also be a co-op mode for up to three players. Pre-orders are now possible!