Take a seat at the gaming tables, browse through new products and meet old acquaintances: When the gates of the Essen exhibition center open from October 5th to 8th, visitors can expect a superlative GAME. With around 60.000 m² of exhibition space in six halls, the trade fair is the largest of its kind and exceeds the previous record year of 2019.
For the 40th birthday, the organizer Friedhelm Merz Verlag is planning numerous special events - such as lectures and panels with industry leaders or a painting campaign with the new mascot Meeps.
What remains unchanged, however, is the unique profile of the world's largest consumer trade fair for board, card and Role playing. Almost 1.000 exhibitors from 56 countries present their new products to a wide audience and invite you to try them out.
Over 1.500 new products will be presented over four days at SPIEL. While there has often been a strong focus on themes and game mechanics in recent years, the spectrum of new games this year is particularly diverse. Carol Rapp, managing director of Merz Verlag, is convinced: "We have such a wide range that every game fan will find what they are looking for." Despite all the diversity, she can still see a certain focus: "In addition to cooperative games, there are solo games and games for two People are particularly well represented."
The complete lists of new products and exhibitors are listed on the SPIEL website and in the app. Both platforms shine in new splendor after an update. The significantly expanded and improved app can be downloaded.
Colorful birthday program
Long-time SPIEL visitors will notice: Games and publishers will now be distributed across the halls according to topic categories. While role-playing games, trading card games and miniatures games find their way into Hall 1, connoisseur and expert games can be found in Hall 3. In Halls 2, 4, 5 and 6, family games - from simple children's games to easy expert games - are waiting to be tried out. When distributing the stands in the halls, Merz Verlag also made sure that small, medium and large stands were well mixed. This means that every corner offers the opportunity to discover not only well-known publishers but also new exhibitors.
For the 40th anniversary, the SPIEL team is also focusing on change and innovation in the program. The first highlight of this will take place on the Thursday of the trade fair. From 11.30 a.m. there will be lectures, discussions and panels with national and international guests in the Rhineland Hall on the topic of "Changing board game world – 40 years of GAME". Admission is free. Merz Verlag also streams all contributions on its YouTube channel.
The tried and tested "Educators' Day" takes place on Friday, which clearly shows educators how board games can be used in lessons. These lectures and panels will also be available on the SPIEL Essen YouTube channel.
On Saturday it's time: Meet & Play. From 14 p.m. to 18 p.m., numerous YouTubers, bloggers and podcasters from the gaming scene will be present in the Europa room for discussions and one or two matches.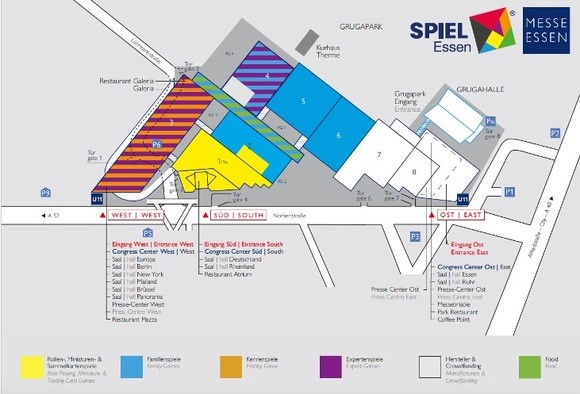 On all days, painting enthusiasts can bring back an unforgettable souvenir from this year's SPIEL: At the "Meeps paints Meeps" stand, Merz Verlag invites you to paint miniatures of the game fair's new, cute mascot. Colors and minis are provided. The finished figures can be taken home. The stand can be found in the gallery (GA45).
The organizer is expecting around 180.000 board game fans over the entire duration of the trade fair. Day and season tickets are available in the online shop. The SPIEL is open from Thursday to Saturday from 10 a.m. to 19 p.m. and on Sunday until 18 p.m. "We are looking forward to four exciting days, which are an absolute highlight in the industry calendar for game fans from all over the world. Only in Essen can you try out all the new products to your heart's content," says Florian Hess, board member of Spielwarenmesse eG and, together with Carol Rapp, managing director of Merz-Verlag.
* = affiliate link. If you purchase via one of the links, we receive a portion of the purchase price as a commission. There are no additional costs for you, but you can support our portal by doing so. Last updated on September 7.12.2023, XNUMX / Affiliate links / Images from the Amazon Product Advertising API. Images from Amazon PA API.