The juries of Spiel des Jahres eV have announced the titles nominated for the three awards Spiel des Jahres, Kinderspiel des Jahres and Kennerspiel des Jahres.
Die Auswahl der Jurymitglieder wird jährlich mit Spannung erwartet, im Vorfeld prophezeien Fans die ihrer Meinung nach besten Spiele des aktuellen Jahrgangs. Nicht immer liegen sich auch richtig: In diesem Jahr gesetzt schien Dorfromantik von Michael Palm und Lukas Zach, erschienen im Verlag Pegasus Spiele, zu sein. Das auf dem Videospiel basierende Brettspiel erhielt viel Lob – und so ist es keine große Überraschung, dass sich der Titel letztlich auch auf der Nominiertenliste für das Spiel des Jahres 2023 wiederfindet.
Next Station London by Matthew Dunstan and the publisher HCM Kinzel is also not a big surprise, after all the charming doodle game was able to build up a little hype at the last games fair in Essen. Third on the list is Fun Facts, a work by Kaspar Lapp from Repos Productions – this title is also an Essen novelty and was positively received at the trade fair.
Game of the Year 2023
Village Romance - The Board Game by Michael Palm and Lukas Zach
Pegasus Spiele
Illustration: Paul Riebe
Idyllic placement game for 1 to 6 people aged 8 and over
Fun facts by Kaspar Lapp
Repos Productions
Illustration: Repos Productions
Enlightening self-assessment for 4 to 8 people aged 8+
Next Station London by Matthew Dunstan
HCM Kinzel
Illustration: Maxime Morin
Colorful on the move in London's underground for 1 to 4 people aged 8 and over
Recommendation list
Acropolis by Jules Messaud (Kobold Spieleverlag / Gigamic)
Hitsters (Jumbo)
Kuzooka by Leo Colovini (Pegasus Games)
Mantis by Ken Gruhl and Jeremy Posner (Exploding Kittens)
QE by Gavin Birnbaum (Strohmann Games / Boardgametables.com)
Sea Salt & Paper by Bruno Cathala and Theo Rivière (MM games)
That's Not a Hat by Kasper Lapp (Ravensburger)
The nominees for the connoisseur's game of the year are eagerly awaited by those who play a lot. There are hardly any surprises here either. Both Challengers! by Johannes Krenner and Markus Slawitscheck as well as Iki by Koota Yamada and Planet Unknown by Ryan Lambert and Adam Rehberg were able to convince fans and trade press alike, the mere fact that Council of Shadows only made it onto the list of recommendations may cause astonishment. 
Kennerspiel of the year 2023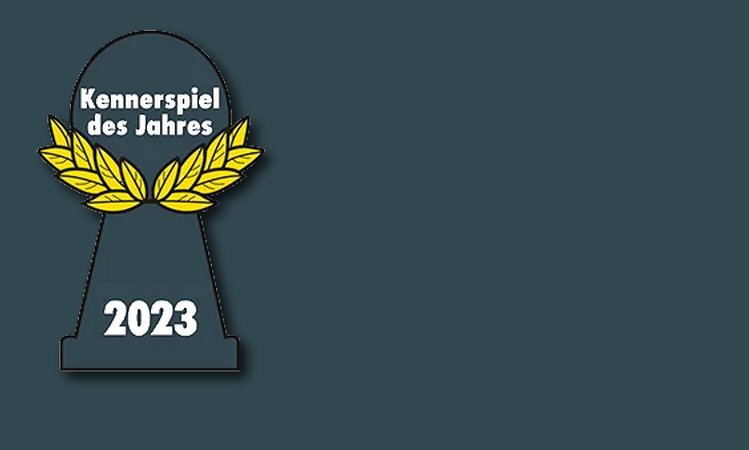 Challengers! by Johannes Krenner and Markus Slawitscheck
1 More Time Games / Z-Man Games
Illustration: Jeff Harvey
Turbulent tournament game for 1 to 8 people aged 8+ (jury recommendation: 10+)
Iki by Koota Yamada
Giant Roc / Sorry We Are French
Illustrations: Dommiy, David Sitbon, Koota Yamada
Trade race through historic Tokyo for 2 to 4 people aged 14 and over
Planet Unknown by Ryan Lambert and Adam Rehberg
Strawman Games / Adam's Apple Games
Illustration: Yoma
Productive planetary puzzles for 1 to 6 people aged 10 and over
Recommendation list Kennerspiel
Council of Shadows by Martin Kallenborn and Jochen Scherer (Alea)
Mindbug by Marvin Hegen, Christian Kudahl, Skaff Elias and Richard Garfield (Nerdlab)
The children's play area seems to be well staffed this year. Instead of dull nonsense, games that also set small thematic accents made it onto the nomination list. 
Children's game of the year 2023
Carla Caramel by Sara Zarian
Loki
Illustration: Apolline Etienne
A cooperative ice cream parlor for 1 to 6 children aged 4 and over
Gigamon by Johann Roussel and Karim Aouidad
Miracle / Studio H
Illustration: Marie-Anne Bonneterre
Remarkable monster collecting for 2 to 4 children from 5 years
Mysterium Kids by Antonin Boccara and Yves Hirschfeld
Libellud / Space Cow
Illustration: Olivier Danchin
Acoustic association game for 2 to 6 children aged 6 and over
Recommendation list child's play
Douzanimo by Sebastien Decad (Djeco)
My First Adventure (volumes 1 to 7) by Roméo Hennion, Mathilde Malburet, Jean Philippe Sahut
and Arnaud Boutle (Board Game Box)
Slide & slide! by Joel Escalante and Rafael Escalante (Game Factory)
The winners of each category will be announced on Sunday, July 16th. However, the mere selection as a nominee is an accolade for authors and publishers - and a prestigious recognition that can boost sales properly.
 Gaming cafés: significantly more in other countries 
The nominations were announced in the Frankfurt games café "Playce", not without a dig at club boss Harald Schrapers: He is pleased that in the German-speaking area a lot of games are played in families and among friends, but the public is less aware than in other countries. Gaming cafés are much more common there. The Spiel des Jahres association promotes, among other things, "playing in public", as Schrapers notes. 
The German-speaking area is a kind of "blank spot" in terms of venues, my Schrapers. It has to be filled out so that "even more people can come to the game", try out new games and ultimately find their way into the hobby. At this point, we come full circle with the Game of the Year awards, which honor those titles that have a special appeal, not least to newcomers. On the other hand, there are plenty of games clubs and trade fair events in the DACH region.
The Spiel des Jahres eV criticized the editors in the publishing houses: This year one or the other weak point was discovered there, for example in the graphic design or the instructions. The latter factor in particular is essential, because in order for beginners to be able to really get started with parlor games, the barriers to entry must be low. The very first is usually the set of rules. If something goes wrong here, there is a high probability that non-players will jump off and seek salvation in other hobbies. 
The award ceremony in July will be a premiere: For the first time in 14 years, the pawns will be awarded at a joint event. "There is a joint special prize that goes with this," explains Harald Schrapers, "which, strictly speaking, consists of two special prizes." The Unlock series is awarded:
Unlock! Game Adventures - Ticket to Ride Mysterium Pandemic by Cyril Demaegd, Mathieu Casnin, Thomas Cauët and Jeremy Koch (Space Cowboys)
Unlock! Kids: Detective Stories - On the Farm · McUnlock's Castle · Chaos in the Park by Cyril Demaegd, Wilfried Fort and Marie Fort (Space Cow)
* = affiliate link. If you purchase via one of the links, we receive a portion of the purchase price as a commission. There are no additional costs for you, but you can support our portal by doing so. Last updated on September 24.09.2023, XNUMX / Affiliate links / Images from the Amazon Product Advertising API. Images from Amazon PA API.