Board games based on licenses have long been standard in the industry. Disney's Marvel Universe is now also playing a bigger role. With Marvel Champions, even one of the best living card games relies on the popular brand around comic heroes and their archenemies. There is also a wide range of board and card games of other genres - but all of them use the famous and sometimes notorious hero figures. We present five good Marvel board games.
Spiderman, Ms. Marvel, Captain America, Iron Man or Black Panther – every child now knows the heroes from the Marvel universe. And even some adults cannot resist the charm of the cartoon characters. So what has to happen is happening: board games with a Marvel license are finding their way onto the gaming tables at home. Whether card games or board games - titles with a purchased Marvel license are often box office hits. Because this is the case, publishers in some cases rely on real "penny diggers", i.e. they constantly bring new content to the market in the form of small and large extensions. That doesn't spoil the fun - on the contrary.
Marvel Champions
Marvel Champions has been a staple on gaming tables since its release in 2019. Solo players in particular appreciate the challenge that the living card game offers with its constant supply of new releases. Countless hero packs, multiple scenario updates, and soon to be the fifth campaign expansion later, Marvel Champions is still trending in deck building card games. As much as the purchasable mini-expansion concept sounds like a money-maker, it's more predictable than classic trading card games like Magic. The advantage with Marvel Champions: you always know what you are getting for your money. So it's also about collecting, but not primarily. The focus is on the deck building system.
Alone or with up to three other players, you compete in one-on-one battles or as part of campaigns against various opponents from the Marvel Universe. Red Skull, Rhino, Thanos - they each have their own villainous plans and only the player force can do anything about it. With ready-made decks for a quick start or in more difficult settings with self-made hero decks you face your archenemies. Defeats are not uncommon, which prompts players to gradually optimize their deck. The different heroes have strengths and weaknesses, for example they cannot withstand many hits, they can stun opponents, or they reach out and can take damage, but they lack the "utility". So it's up to the players themselves to discover their favorites and then craft a meaningful deck around them.
There is no shortage of content at Marvel Champions. The motto here is: Everything can, nothing must. Even the base game will provide hours of fun to get you started. The effect of "Something is missing" that is typical of collectible card games and something known from Magic - The Gathering is not so evident in the Marvel LCG due to the different concept orientation. If you want, you can gradually buy new hero packs or look forward to opponents and story campaigns from the larger expansions. If you don't want to continue collecting, you don't have to. The content is self-contained and yet compatible with each other. An entry is therefore possible at any time - and in view of the already announced X-Men expansion currently even recommended.
Marvel Champions is recommended for 1 to 4 people aged 14 and over and has a playing time of around 60 minutes.
Marvel Crisis Protocol 
Marvel Crisis Protocol is the miniatures board game among Marvel games. This title - managed by mini specialist Atomic Mass Games - has also been around since 2019, and here too, expansions in the form of miniature packages have ensured a constant supply since the initial release. Almost surprising: Despite the popular license, the board game has only now been released in a German language version. Asmodee Germany is responsible for localizing Marvel Crisis Protocol. In any case, the good news is: It's coming.
Marvel Crisis Protocol is otherwise a classic tabletop board game for two players. Heroes and villains compete against each other on assembled or self-made battlefields. Last but not least, fans of this title draw an attraction from this: It's not about the mere game, but also about the trappings. Painting miniatures, crafting terrain, creating a well-functioning team - the basis of Marvel Crisis Protocol is known from similar skirmish tabletops. In the starter box, players will find some of the most famous characters from the Marvel universe. The equipment is directly available for two players, so that you can just start with the basic game without further purchases. There are now well over 70 figures and there is no end in sight.
Overall, the rules are relatively simple. Marvel Crisis Protocol isn't about complexity, it's about tactics and strategy. Yes, Marvel Crisis Protocol doesn't win an award for great innovation, but given the lack of Marvel miniatures games, it's a recommended title for anyone wanting to bring some no-nonsense skirmish action with familiar heroes and villains to their home gaming table.
Marvel Crisis Protocol is recommended for 2 people aged 14 and over and has a playing time of around 90 to 120 minutes.
Marvel United
With Marvel United, CMON and Spin Master or Asmodee Germany are closing the gaps between the more adult and child-friendly Marvel board games in this country. Marvel United is essentially a miniature board game with card deck mechanics. The style of the miniatures is unusual and at the same time a matter of taste. Chibi figures with oversized limbs and heads aren't for everyone, so you have to like the look.
The rules are simple, so the board game is also suitable for children and families. Together, the players fight in the roles of different heroes against well-known villains in the Marvel Universe. Each of the hero figures has its own deck of cards and a different strategic focus. It is important to bring the most sensible and efficient combos to the table. The base game offers everything you need to get started.
Marvel United is much better and sometimes more demanding with the expansions. They then also address new heroes, including Spiderman, the Black Panther or Thor. There are always new villains in the expansion packs that correspond to the respective setting. This is how players meet Loki, the green goblin or Ronan. The basic rules are always simple, but good hand card management is still required depending on the scenario. The same applies to this Marvel board game: there is no random content, you know what you are getting for your money before you buy it. The expansions, but also the basic game, are moderately priced. The short games, around 40 minutes in length, make Marvel United a good family game that doesn't overwhelm, but is challenging at times.
Marvel United is at Asmodee Published in Germany and recommended for 1 to 4 people aged 10 and over. A game lasts around 40 to 50 minutes.
Marvel Villainous - Infinite Power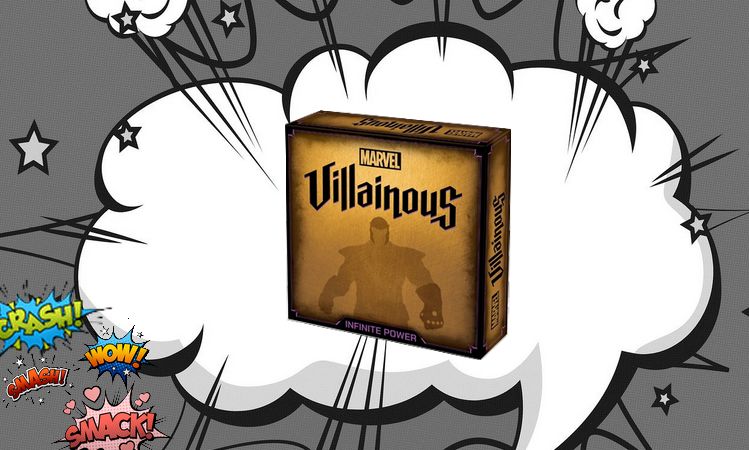 Marvel Villainous is a classic example of a licensed game based on a licensed game. Disney's Villainous was taken as the basis for knitting an offshoot around the villains of the Marvel Universe. For once, fans can slip into the roles of the villains in this strategic board game - that alone makes the title special in a way. Optics and process are based on the template: Disney Villainous. However, the Marvel offshoot is aimed at two to four players.
Marvel Villainous - Infinite Power is an asymmetric tabletop deck featuring abstract miniatures. The title is aimed at fans of the franchise, but also at families. The gameplay is correspondingly shallow – the level of difficulty can still be adjusted in order to be able to offer at least one or the other challenge. However, the set of rules in Marvel Villainous - Infinite Power is not all that simple: it is important to keep track of what is happening in the game and the rules. It's a challenge here and there. The theme is present at all times and the different game goals and playing styles of the villains provide variety. Sometimes there is a lack of balance, but there are expansion packs that provide new motivation.
Marvel Villainous - Infinite Power was published by Ravensburger in this country. It is recommended for 2 to 4 people aged 12 and over and lasts between 40 and 90 minutes.
Marvel Splendor
Splendor Marvel is based on the 2014 Game of the Year nominated commercial game Splendor by Marc André. The idea of ​​the comic hero version: Recruit character cards of heroes and villains using chips, which then grant infinity points. There are some permanent bonuses that allow for some strategic adjustments.
The packaging with the colorful chips reminiscent of the Infinity Stones on Thanos fist fits the Marvel theme quite well. The illustrations of the cards also contribute to the fact that there can be no doubt that it is a Marvel board game - albeit with a game concept that is now around eight years old. Splendor's shallow, tactically tinged trade is timeless anyway, so the comic book offshoot welcomes the game.
The trick with Splendor: No lengthy explanations were needed, no poring over the set of rules – getting started was quick, almost immediate. Thanks to the comprehensible gameplay, even beginners can easily get into the action. Tactics and a bit of luck are required to emerge victorious in Marvel Splendor. This also includes planning one or the other move ahead. Due to the short playing time of 20 to 30 minutes, several games can be lined up. It won't be boring. Splendor Marvel is not an evening filler, but it can still fill an evening.
Splendor Marvel is a strategic board game for 2 to 4 players and recommended for ages 10+. A game lasts about 30 minutes.
* = affiliate link. If you purchase via one of the links, we receive a portion of the purchase price as a commission. There are no additional costs for you, but you can support our portal by doing so. Last updated on September 3.10.2023, XNUMX / Affiliate links / Images from the Amazon Product Advertising API. Images from Amazon PA API.