Asmodee has presented its board game innovations for 2021. It is already clear: some of the hottest games are in the purple truck again this year. The portfolio is colorful and ranges from fast fun games to family games to strategic board games and titles for experts. Asmodee has also reintroduced licensed board games to the program for 2021, including X-Men - Rising of the Mutants and Bloodborne. The latter work is based on a video game. And hardly surprising: Asmodee, like other major competitors, closed 2020 successfully and with significant sales growth. And 2021? The current year could turn out to be even more successful in view of the top-class program and some strategic sales decisions. 
---
Asmodee has more than 70 titles for the current games season, which has been running for a long time - even if the international game days as the autumn season opener took place in a completely different format than usual. Corona. Asmodee was not spared from the virus either: home office, mask requirement, waiver of events. Nevertheless: "2020 wasn't just bad," says PR manager Robin de Cleur. Asmodee has been creative in the pandemic year, rolling out campaigns including print-and-play and support for local specialty retailers, with the stated goal of bringing customers into stores post-lockdown.
"Games and board games were super popular in 2020," sums up de Cleur. After Ravensburger and Kosmos has now also confirmed to Asmodee that the increase in sales has been significant. "We were able to outperform the market," says Commercial Director Yvette Vaessen. The publisher recorded growth of 30 percent in the last financial year.
The current year is unlikely to be any less successful, even if the prospects are uncertain given the ongoing pandemic, but not bleak. the Toy retail is cautiously optimistic, retail alone is a cause for concern.
Asmodee News: Lots of Games in 2021
"Today's board games have a special quality," says Asmodee's Commercial Director. What she means by that: Parlor games have established themselves as toys, accompany players for years or even decades - and prove what they can do in times of crisis. It doesn't always have to be the connoisseur or expert board games. The sales figures, especially for classic family games, are literally exploding. Some board game oldies are also moving in at Asmodee this year, at least in terms of sales.
The Essen publisher is cooperating with Hasbro to bring game brands such as Spiel des Lebens or Monopoly to retailers' shelves. For gamers, this news is negligible, but local retailers could benefit from it. As PR man Robin de Cleur explains, retailers could simply add these classics to their order - without having to purchase a minimum quantity. This could have a positive effect for small retailers: they have the opportunity to use well-known brands that have been established for decades to attract customers who would otherwise shop in large department stores or online because the specialist retailer was perceived as supposedly multi-player-oriented. Otherwise nothing has changed in this regard: Hasbro continues to be responsible for its own portfolio.
Asmodees novelties 2021 at a glance:
[tabs slidertype="top tabs"] [tabcontainer] [tabtext]A[/tabtext] [tabtext]B[/tabtext] [tabtext]C[/tabtext] [tabtext]D[/tabtext] [tabtext]E[/ tabtext] [tabtext]F[/tabtext] [tabtext]G[/tabtext] [tabtext]H[/tabtext] [tabtext]I[/tabtext] [tabtext]J[/tabtext] [tabtext]K[/tabtext] [tabtext]L[/tabtext] [tabtext]M[/tabtext] [tabtext]N[/tabtext] [tabtext]P[/tabtext] [tabtext]Q[/tabtext] [tabtext]R[/tabtext] [tabtext ]S[/tabtext] [tabtext]T[/tabtext] [tabtext]U[/tabtext] [tabtext]W[/tabtext] [tabtext]X[/tabtext] [tabtext]Y[/tabtext] [tabtext]Z [/tabtext] [/tabcontainer] [tabcontent]
[tab]
Ankh
On a scale from one to T-Rex [/tab] [tab]
BANANAGRAMS
Barking kittens
Bellum Magica
Bezzerwizzer
Bloodborne – The Board Game [/tab] [tab]
Canvas Carcassonne anniversary edition
Cloud city
Cobra Paw
Disney codenames
cosmogenesis
Crime zoom
Cross Clues [/tab] [tab]
The Lord of Dreams - brother heart
Descent - Legends of Darkness
Dobble - Paw Patrol
Drunk, stoned or stupid
Dune imperium
Dwergar [/tab] [tab]
Equinox
Excavation Earth
Exploding Kittens Party [/tab] [tab]
Fabulous worlds
Fan zone [/tab] [tab]
give me five
GOAL 10 [/tab] [tab]
Harry Potter Wizard Quiz
Here to slay [/tab] [tab]
I love broccoli
Imagine Family
Influentia [/tab] [tab]
Jamaica
Jet lag [/tab] [tab]
KeyForge – Dark Tides [/tab] [tab]
logiquest
Loopy Loopers [/tab] [tab]
Marvel Champions
Massive Darkness 2
Masters of the Night
Meadow
Mim Too [/tab] [tab]
Nemesis Phantoms [/tab] [tab]
Pandemic Hot Zone Europe
Patatrap Quest
photosynthesis
Polynesia
Project L [/tab] [tab]
Quetzal[/tab] [tab]
Riftforce[/tab] [tab]
Skull
So Kleever
Sock Monster
Marvel Splendor
Star clicker
Starlink
Stella
Story Cubes Harry Potter
Streaking Kittens [/tab] [tab]
The Thing
Time stories
Twin it [/tab] [tab]
Unlock! children
Unlock! Mythic Adventures
Unlock! Star Wars
Unstable Unicorns [/tab] [tab]
We will rock you [/tab] [tab]
X-Men - Mutant Uprising [/tab] [tab]
Yum Yum Island [/tab] [tab]
Zombicide: Second Edition
zombie teenz
Ticket to Ride Europe: Anniversary Edition [/tab] [/tabcontent] [/tabs]
Some highlights among the new releases
Ankh
With Ankh by Eric M. Lang, a competitive strategy game is published by Asmodee, which ends a trilogy after Blood Rage and Rising Sun. Players slip into the roles of ancient Egyptian gods and compete for favor as society begins to change and abandon old ways.
You build caravans, summon monsters and convert followers to get into Ankh to pass. Deities, monsters and the people of ancient Egypt have been reinterpreted and depicted in illustrations and as detailed miniatures. The board game is aimed at two to five players, ages twelve and up.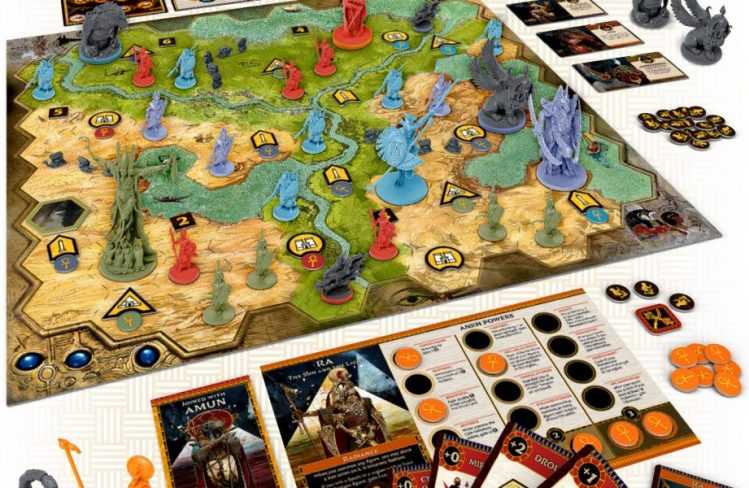 Bloodborne: The Board Game
The localized version of the board game Bloodborne should be no less exciting for fans. The title is a licensed work that was previously crowdfunded via Kickstarter was financed, and extremely successfully: CMON was able to generate around four million US dollars with the project based on the video game of the same name.
It is - you can already guess - a miniature board game that the designers Michael Shinall and Eric M. Lang are responsible for creating. In Bloodborne: The Board Game, a campaign-based action-adventure game, players take on the roles of hunters who work together against the game.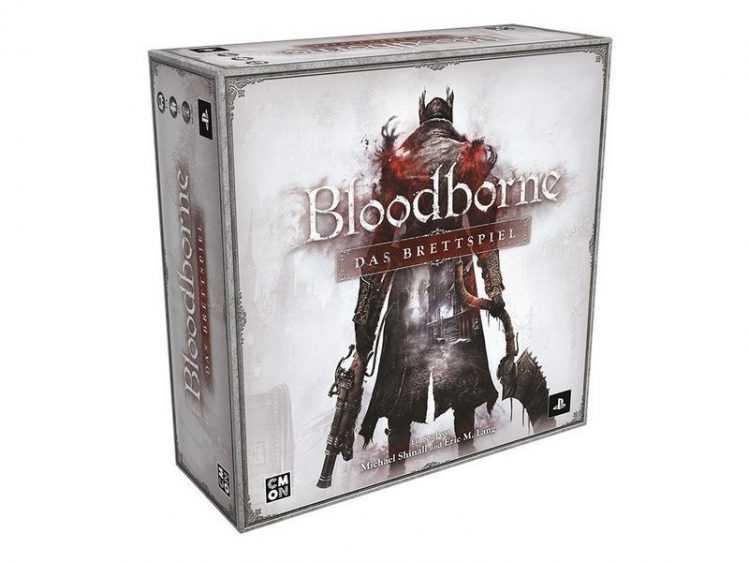 They uncover the secrets hidden in the city of Yharnam and beyond. Despite having unique weapons, hunters must think quickly and adapt their tactics to overcome the multitude of enemies. They learn their behavior, exploit their weaknesses and thus defeat them. Due to the unique, card-based combat, luck has little influence here. Success or failure depends on the decisions players make. The board game is aimed at up to four players, but can also be played alone in a solo mode.
Dune: Empire
With Dune: Imperium, Dire Wolf has come up with a board game for the movie of the same name. A German version of the title is published by Asmodee. With a mixture of worker placement and deck building, players control the fortunes of the mansion they control. The board game takes inspiration from elements and characters from Dune, both from those in the new Legendary Pictures film and from the content of the literary series by Frank Herbert, Brian Herbert and Kevin J. Anderson.
Cloud city
Blue Organe's Cloud City is so exciting because, among other things, players build tall to pull up skyscrapers. In Cloud City, players compete against each other as architects to create the best urban planning project for the city council. Each player gradually creates a 3D city with skyscrapers and skywalks at lofty heights.
To do this, they take tiles from a display and erect buildings on them at different heights. The same buildings can be connected to skywalks if they are erected at the correct distance from one another. These connections earn city council votes, the longer the path, the more points. If you want to expand this nifty and visually prominent family game, you can use the special cards it contains to add more tasks and variety. The architect with the city map who has the most and longest routes wins the game.
Excavation Earth - including phase II
In the 42nd year after unification, an alien named Eolus Rein made a discovery the free species had never seen before: a previously unknown planet littered with the remains of a lost civilization.
Soon explorers, traders, and avid shoppers came to the empty planets, competing to assemble the perfect collection of alien artifacts. They soon learned that the inhabitants of this destroyed planet called him ... "Earth". The game takes on the role of archaeologically interested aliens who dig up, collect, smuggle and auction the remains of humanity to the highest bidder. Excavation Earth has optimized rules that can be understood in ten 10 minutes.
Due to the difficult decisions in each round and the interaction with one another, it also offers profound gaming fun. This makes the game suitable for newbies, but also offers experienced euro gamers a challenge. The board game is aimed at one to four players and comes from the authors Gordon Calleja, Dávid Turczi and Wai Yee.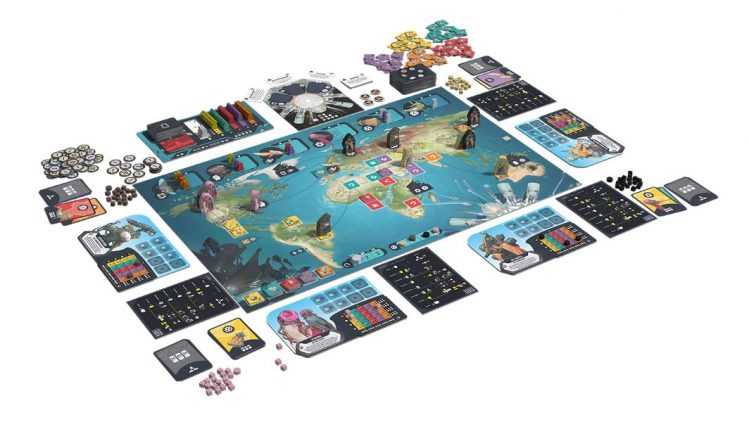 The board game also includes the Phase II expansion. The alien archaeologists still have a lot to do. The expansion phase II to Excavation Earth includes 4 new modules that you can combine as you wish. There are also Joker cards: This gives players an additional action and always an ace up their sleeve.
Two new factions send the best of their ranks to earth to trade in the most coveted goods: The house of Tvntrm, with its influential diplomats, is a cornerstone of high society. The members of the Sheenu Jai Guild, on the other hand, are known to be the best collectors in the entire Union of Free Species. Other elements are achievements and the observation ship.
Pandemic Hot Zone Europe
Even if you hardly want to hear about epidemics and viruses anymore, with Pandemic Hot Zone Europe a game is released that deals with exactly that, again with the participation of Matt Leacock. Deadly epidemics threaten Europe and only gamers can stop them. In Pandemic: Hot Zone – Europe the pathogens mutate and become stronger and more resilient. Work together preventing outbreaks and discovering the cures. Win or lose together.
In Pandemic: Hot Zone – Europe you are a member of a disease special unit. You must work together and use your individual skills to develop cures and prevent deadly diseases from spreading across Europe. Each of you takes on a different role with individual special abilities. The epidemics change via mutation cards until a cure is discovered. There will be solo rules and instructions on how to combine them with other Hot Zone games, which will then be available for download from asmodee.de. The game is aimed at two to four players, ages eight and up. A game takes around half an hour.
Asmodee: a look behind the scenes
Asmodee not only presented its board game innovations for 2021, but also gave a little look behind the scenes. Asmodee is not just Asmodee, that's a key message. Just because a game appears in Spain or France, for example, doesn't mean that it also applies to Germany: "The game has to fit the respective market," explains Sebastian Rapp, who is responsible for purchasing. His team selects which parlor games are suitable for the domestic market. The localization department of the Essen publishing house is also involved. She is headed by Sebastian Wetzlaff, who ensures that parlor games are not only translated, but also meet the demands of Asmodee and the market.
The brief impression above all shows one thing: translations and editorial post-processing are anything but easy. A good example of this is Asmodee's novelty "So clover" by Repos. The play on words combines "clever" and "clover" in English – clever and clover. "That's one of the hardest things, picking up on puns or references," explains Wenzlaff. In any case, the team made it: The German version of the game is now called "So Kleever". They wanted to stay close to the original, also in terms of design. "You can't just convert the play on words," explains the localization boss. In the end it worked out well.
Is that difficult? "Always," says Sebastian Wenzlaff. It's about meeting the character that the game transports. Word games are a particular challenge, and this is exactly where Asmodee relies on creativity and not on the need to translate. Sometimes English puns are left out, and new ones are added if the German language is particularly suitable. Localization is complex, a lot happens in a team and a lot via brainstorming. The localization team oversees around 200 projects per year. Sometimes the effort is great, sometimes less. Games like Sherlock Holmes: Consulting Detective is one of the larger projects. In figures: A translation performance of over 100.000 words. "We're moving at Gloomhaven level there," says Wenzlaff. Not only the amount of text means work, but above all the research. So terminology must fit the setting. Which, by the way, is inevitable with this type of work: spoilers!
License board games are also important for Asmodee
Licensed board games are also part of the publisher's work area. Marvel is particularly strong in this regard this year. Marvel Champions and Hero Packs, X-Men - Rise of the Mutants, Marvel Splendor: a lot will be released in 2021.
A hot topic: Marvel Crisis Protocol and a possible localization. Does it come in German? "That has not yet been decided," comments Commercial Director Yvette Vaessen. This depends, among other things, on Atomic Mass, the studio that is now responsible for FFG's miniature product lines, including Marvel Crisis Protocol. It was similar at the beginning of Marvel Champions. "We underestimated that," said Vaessen. Somewhat at the urging of the community, the decision was made to implement the game after all. The effort had to be worth it, that was part of the decision. Fans and retailers were hooked on the game, and in the end the release of the German-language version was probably worth it - champion packs were and are being added successively.
Licensed games can be worthwhile. An example: Small world of warcraft, which, according to Vaessen, started with a number in the five-digit range in the first edition. Another follow-up order again included a print run in the five-digit range. Small World is a great game, says Vaessen, and: "The license has done the game very well". There are games where the license brings the game to life – sometimes it also works the other way around. Also license: Condesnames – Disney. The novelty will appear this year.
A licensed board game that will be released this year is X-Men. In X-Men: Rise of the Mutants, players take on the role of these heroes and send them on death-defying missions around the world. Be it to recruit new mutants, catch criminals, protect innocent lives or fight some of the most iconic X-Men villains.
The players face the challenge through the skillful use of their dice and the skills of the heroes. To do this, they put together a team of mutants, characters like Rogue, Wolverine and Storm ally with Shadowcat, Magik or Forge. Eight different scenarios await, each with its own challenges, and each leads to an uncompromising showdown against villains like Magneto, Dark Phoenix or the Hellfire Club. The board game is aimed at up to six players, but can also be played alone. The duration of a game is long: the game by the authors Richard Launius and Brandon Perdue sits around 120 minutes.
The "Z" at the end
The second edition brings Asmodee to Zombicide on the market, then with some changes. The board game for one to six players sticks to the tried and tested concept, but changes some details. Players fight together as survivors of a zombie invasion in a world that seems to have sprung from action and horror films.
The zombies are controlled by the game itself using simple rules and a set of cards. Find weapons, defeat zombies and increase your survivor's adrenaline levels to reach their full potential. The more zombies you kill, the more zombies appear. The successor to the hack & slay classic Zombicide, Zombicide: Second Edition comes with a new artwork and newly designed miniatures. He also has an optimized set of rules and additional game modes. In 25 missions, which are linked by a continuous story, you take up the fight against bloodthirsty undead again.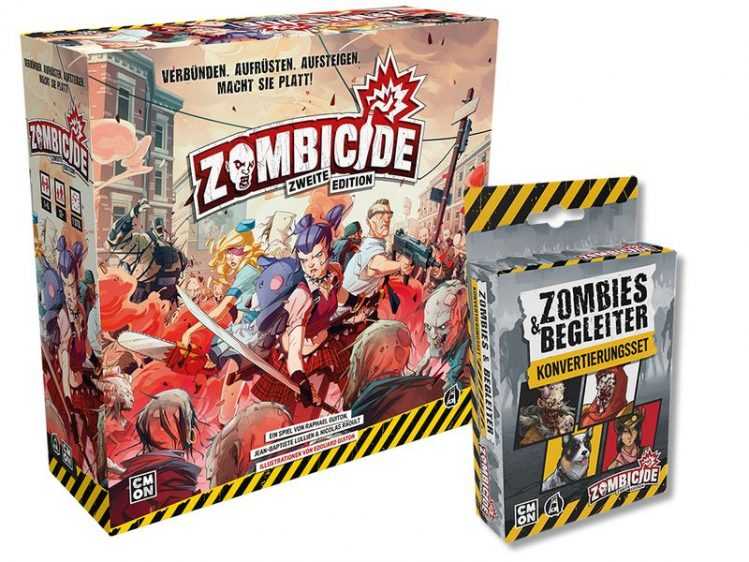 Asmodee lists the changes in an overview:
Faster game setup: Target tokens and show-off weapons are now placed in specified locations on the map pieces. Locked doors are already marked on the buildings.
New optional game modes such as "Monstrous Festival" deepen the atmosphere of Zombicide and present you with new challenges.
Better overview thanks to plastic panels: each survivor receives their own panel, on which there is space for the respective character sheet and equipment cards. Marker pens placed on slots indicate a survivor's health and skills. The hazard display with a movable marker was integrated in the lower part of the panel.
The equipment cards have new symbols (e.g. for ammunition and weapon types).
Molotov cocktails and sniper rifles do not have to be built, they are normal equipment cards.
Experience points have been replaced by adrenaline points. They work the same way.
Skills: Many skills have been added or updated to match the new edition. The following
Skills have a different name, but work in the same way: "Slippery" has become "light-footed", "pushing" now means "pushing" and "two-handed" became "two-handed".

Children come into play as survivors. They usually start a lot with two healths instead of three like adults. Children are allowed to use the "light-footed" skill once per turn.

Zombie Onslaught: Some zombie cards now contain the keyword "Onslaught". As soon as you draw such a card, place the indicated zombie miniatures on the game board as usual. After that, these zombies immediately receive an additional activation.

Brood in buildings: In buildings, the zombie brood takes place in dark rooms, the so-called "dark zones".
When it comes to target priorities, the fatties come first. In addition, the rules for common target priorities have been simplified.
For experienced zombie hunters, the conversion set Zombicide: Second Edition - Zombies and Companions is available. This set upgrades all special zombies and companions from the classic Zombicide series so that they can be used with the new Zombicide: Second Edition.
---
* = affiliate link. If you purchase via one of the links, we receive a portion of the purchase price as a commission. There are no additional costs for you, but you can support our portal by doing so. Last updated on September 7.12.2023, XNUMX / Affiliate links / Images from the Amazon Product Advertising API. Images from Amazon PA API.