Every year, one month before Christmas, the Handelsverband Spielwaren (BVS) presents the most popular toys of 2020 for children in a top 10 list that comes in handy for the Christmas wish list. This year there is a particular trend towards toys that invite you to build and discover, but classic dolls and vehicles have also made it onto the list of toy hits for boys and girls in 2020.
---
Christmas is approaching us quickly and the anticipation increases with young and old. The first requests for toys, from the cuddly toy to the doctor's case to the racetrack, have already been made by the way, but now it's time for a letter full of children's wishes to the Christ Child.
Top 10 of the trendy toys for children 2020 from the BVS
Writing a wish list in the run-up to Christmas is a cherished ritual for children and families. Between fragrant cookies and Christmas music, toy catalogs and the Internet are scoured for potential gifts. Between special orders for the Christ Child, such as giant dinosaurs and glittering unicorns, parents can help their children choose Christmas gifts through targeted lists, such as the Top 10 Toys 2020 by the Spielwaren trade association:
The large dinosaur research station from Schleich
The big dinosaur research station is a toy for children who love movies like Disney's "Arlo & Spot", "Jurassic Park" or "The Land Before Time". In the hidden dinosaur research station in the Amazon jungle, the little adventurers will do everything to save the dinosaurs from extinction. The courageous team consists of the three Colby brothers Maxx, Luis and Flynn.
The research station for dinosaurs has a command center, a viewing platform with a swiveling stunning dart cannon and a crane, as well as exciting functions such as a trap door, cameras or staff weapons that are used to catch the dinosaurs. The large dinosaur research station is a toy for children between the ages of 4 and 10 and currently costs 79,99 euros in toy shops.
Novelmore from Playmobil
Playmobil's Novelmore toy might appeal to young and old children alike. All those who like stories of knights, such as the legend of Lancelot, are addressed here. Playmobil would like to take the player into a world of castles that belong to the territory of the Knight of Novelmore and that of the Burnham Raider. The different sets should be used for creative play, tell of legends and provide lots of fun.
A highlight of Novelmore is that the knights can be found with their own series on YouTube Kids and in stores since November. The Playmobil toy is suitable for children between 5 and 10 years of age. The sets cost between 5,81 and 164,88 euros in stores.
Toynamics Magnetic Science Laboratory
This children's laboratory is particularly suitable for young tinkerers. The magnetic science set offers seven exciting experiments designed to uncover the secrets of magnetism. The laboratory is intended to promote creativity, logical thinking and an understanding of the natural sciences, technologies and engineering, art and mathematics. Small jet shoots can already enjoy toys from Toynamics from the age of 4. It is currently available in toy stores at a price of EUR 29,99.
Dodo - save the wobbly egg! Kosmos
In the family game Dodo - Save the wobbly egg, speed is required! Because when the dodo lays its egg on the highest mountain peak of the Mangalopanesia island kingdom, a moment of inattentiveness is enough and the egg rolls at a fast pace to the edge of the rock
Now the players have to work together to bring the rolling wobbly egg safely back to the foot of the mountain. An exciting race against time begins! The game for children and families is suitable for ages 6 and up and currently costs 29,99 euros.
MAN TGS truck street cleaning from brother
Which child doesn't dream of riding a road cleaning truck? With the street cleaning toy from Bruder, this should now be possible down to the last detail. Equipped with various cleaning brushes and a flexible hose including suction tube, to absorb larger amounts of dirt, it should feel like a trucker. The waste body can be emptied by tilting it and the tailgate of the toy truck can also be opened. A Light & Sound module can be added as an option. The toy, which is intended to encourage creative role play, is suitable for children from 4 years of age and currently costs EUR 60,00.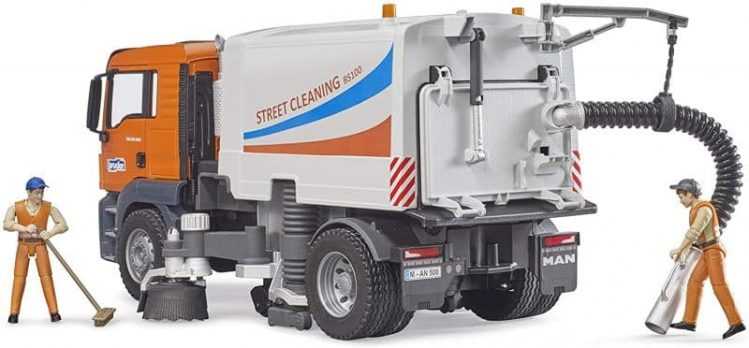 Barbie 3-in-1 super adventure camper with accessories from Mattel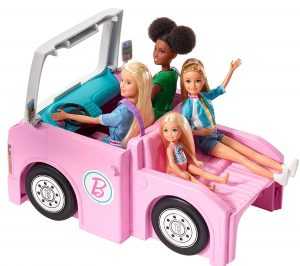 Barbie's adventure camper invites you to go on a road trip! There is also a pick-up truck with space for four dolls and a boat that is always ready for adventures on the water. The camper, which can be transformed into a campsite, has everything you need for a Barbie outing with friends: like a pool, an open kitchen and a living area with a bathroom. Barbie toys have always been popular classics and are suitable for children from 3 years of age. The price of the set is currently 114,99 euros.
Power Rangers Beast Morphers Beast-X King Spinning Sword by Hasbro
The Beast-X King Swivel Sword, inspired by the Power Rangers series, is intended to transport the martial arts action from the Morphers series into the children's room at home. If the button of the whirling sword is pressed and the arm is moved at the same time, the sword whirls around in Power Rangers fashion. The Power Rangers toy is suitable for children aged 5 and over and is currently available from toy stores for EUR 26,99.
My world "Construction Site" starter set from Märklin
The battery-powered diesel locomotive with a yellow paintwork lets children become a locomotive driver. An open freight wagon, a tipping wagon for transporting construction site goods and a concrete mixer wagon create that construction site feeling. The highlight: an infrared control device, the Märklin my world Power Control Stick, can be used to set three speed levels for driving forwards and backwards.
Three sound functions and a light can also be controlled. Thanks to two different frequencies, another construction site train from the Märklin set can be controlled with the Märklin my world Power Control Stick. The classic among the model toys for children is suitable from three years of age and currently costs EUR 99,99.
Galileo organic cosmetics from Clementoni
With this toy, children can make their own organic cosmetics. They use natural ingredients from organic farming and natural dyes. Cosmetics such as bath foam, shampoo, body cream, soaps and hand cream, perfumes and peelings can be created.
Incidentally, the set encourages scientific experimentation with the cosmetic products, with an organic-natural approach. Children from the age of 8 can have fun making organic cosmetics. The Clementoni toy is currently available in stores for 39,99 euros.
Toddy's by siku Sieper
Toddys are toys designed to encourage learning. With its swivel and plug-in system, siku Click + Play, Toddys was developed for children from 18 months. Vehicles and airplanes are put together in a playful way and combined with one another.
A suitably designed figure is included in each case. The pegging game combines childlike learning with fun. A two-part figure currently costs 14,99 euros, a three-part figure 19,99 euros and if a light-and-sound system is to be included, the set costs 24,99 euros.
* = affiliate link. If you purchase via one of the links, we receive a portion of the purchase price as a commission. There are no additional costs for you, but you can support our portal by doing so. Last updated on September 7.12.2023, XNUMX / Affiliate links / Images from the Amazon Product Advertising API. Images from Amazon PA API.