Sold Out is the new game released by Frozen Games localized and from Pegasus Spiele is distributed. The Share & Write takes us into the theater business, but we are not on stage ourselves, we are trying to sell as many seats as possible in your theater. This sounds very interesting at first, for everyone who likes flip/roll/choose... & write games and comes with a refreshing new game mechanic.
Sold Out seems slightly overwhelming at first glance. It is in the family game category and offers various ways to collect points. During the game we take the left or right tableau, make crosses and distribute seats in our theater. There are also scoring cards that you should pay attention to in order to successfully score points. When you first explain it, it sounds like a lot, but you can quickly get into the game and, with a little practice, you can play it quickly.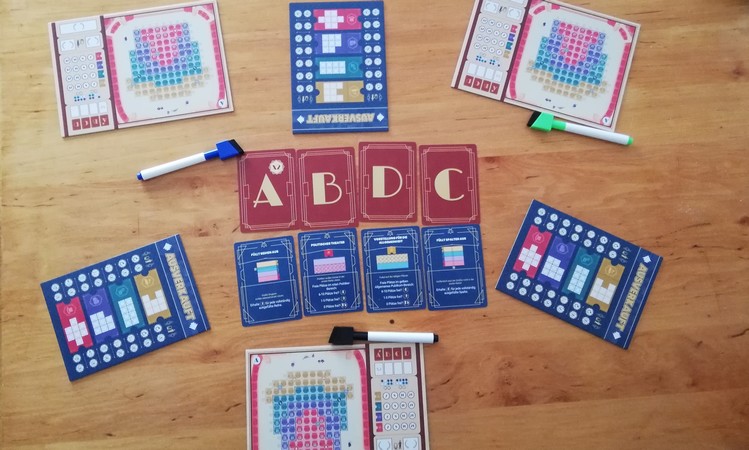 Generally, each person receives a theater paper and a pen. Usher tables are also placed between people. Then four more scoring cards (with different difficulty, depending on whether I already have experience or are new), are selected and the game can start.
The highlight of the game: You all take the right or left (depending on the round) tableau at the same time and make your move. The main thing is to sell tickets and allocate seats in your theater. On the usher board you choose whether you want to collect an ability or victory points. Then you color in a field in any ticket and adopt the remaining shape into your theater; these places have been sold. Important: At least one seat from the mold must be in the matching color area. As you probably already know from similar games: the form must be entered completely and within the theater. Other shapes may not be painted over. You can use the skills to modify this shape, enlarge it, rotate it, etc. Finally, you put the board back and take the board that is not currently being used in the following round. Left and right always alternate and in the end you have allocated 14 places.
It is important that you paint on a tableau, always on the side that faces you, i.e. on the tableau to the left of the real one, you use the right column, and on the tableau to the right, you use the left column. This is also the only way to interact with the other people, otherwise you will fill your theater by yourself.
You collect points in different ways. On the one hand, you simply collect victory points on the tableaus. Then you collect points if you have sold more tickets of a type than the other person with whom you share the tableau (you also get points if there is a tie). To do this, you look at the respective ticks at the end of the game. Whoever has made more crosses in a ticket has a majority.
Last but not least, and probably the most important point option: There are four scoring cards. These tell you how you should allocate places in order to collect points. You get points if you completely fill columns, sell marginal spaces or fill certain types of spaces. We are already familiar with cards like this that change with every game The cartographer or The cartographer. Since these scoring cards are always drawn anew, you have to adapt your strategy slightly for each game.
Opinions
Sold Out comes with a refreshing new game mechanic: you share the tableau with the neighboring people on the left and right. This means everyone takes their turn at the same time and there is no noticeable downtime. Of course, someone can think about it a little longer, but that is usually limited. Once everyone understands the game principle and scoring options, the game can be played quite quickly. Your own strategy must always be adapted to the actions of the neighboring people, because they can change the ticket shapes on their turn or collect majorities to which I may want to react. So it's not enough to think of a strategy and follow it through blindly.
The game is advertised as a family game and I think that assessment is accurate. However, I can understand anyone who is a bit overwhelmed after the first rule has been explained. 3 different ways to collect points can seem cumbersome, especially for people who don't play much. However, this excessive demand is quickly thrown off and it plays like a very successful family game. Even if there are different scoring cards that provide variety, the question remains to what extent the game can convince and inspire in the long term. But only time will tell, for now it's a thoroughly successful game.
Solo mode
There is also a solo mode where you compete against competition. The abilities of the "bot" are relatively limited; it does not enter any places and therefore does not use any tableau skills. Her actions are purely limited to selling tickets. This also influences the forms you use. In the end, the competition only gets the ticket points, which are quadrupled. Solo mode is very easy to play, but it can be a bit frustrating at times because you have to concentrate so much on the tickets. If the competition scores too strongly here, victory is no longer possible, even if you fulfill the scoring cards ideally.
I think wipeable cards are better than blocks, which you can use up quickly if you like the game. However, it can sometimes happen that points or lines are blurred or that the entries cannot be wiped off perfectly with the eraser. So far, a damp cloth has always managed this.
It wasn't entirely clear to me why the seats should be circled. Yes, you can see better that seats with special symbols are gone, but the seat shapes are actually enough for me. Maybe it's just because the circles make the theater look a bit messy.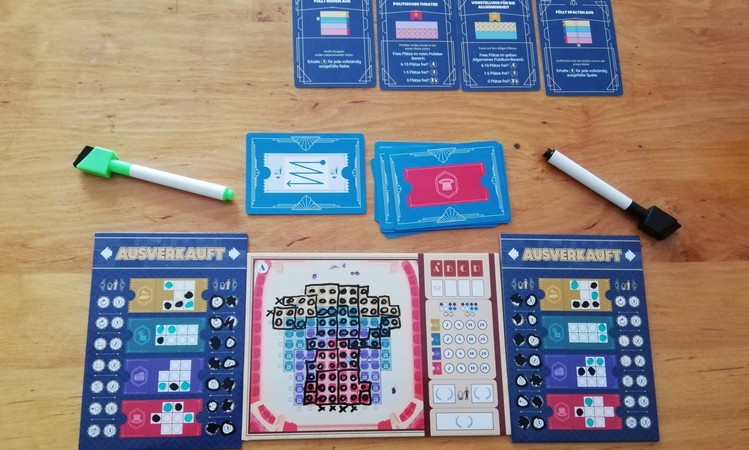 Rules video