The story continues and this time it's going to be cold! After the Andor trilogy (The legends of Andor, Journey to the North and The last hope) is with me shortly before Christmas The Legends of Andor: The eternal cold a new standalone game from the Andor universe Kosmos appeared. As with previous games, the author Michael Menzel. 
The game is for 2-4 people aged 10+ and a legend lasts around 60-90 minutes. The game contains four legends in total - but often this does not mean that you are finished after four games, because you cannot complete a legend either. If you fail, you restart the legend, but of course you now have some knowledge that can help you try again. However, success is never guaranteed, as there are also some lucky elements involved. For example, the fight against the monsters takes place as a dice roll. 
As usual from the other Andor titles, the game comes with instructions on how to start playing. This also makes it suitable for Andor newcomers, as the rules are taught gradually. Previous knowledge of the other titles is not necessary, but those who know the previous games will already know many game elements and will find their way around more quickly. You start the Losspiel legend with a limited selection of materials and options, and you get to know the basic game mechanics: you move across the game board and carry out actions - each of which costs you time, which of course is limited. When everyone's time is up, the day ends. Then certain actions are performed, such as moving the monsters and advancing the story stone. The story stone indicates how much time you still have in total to win the legend. He can also trigger events that affect the game and, for example, bring new intermediate goals or new monsters into the game.
The basic game mechanics remain the same: It's all about time management. Many will probably want to rush straight in and defeat all the monsters, but that quickly ruins the legend here. Each defeated monster advances the story stone. You have to defeat some monsters to protect a place or because it is your job to kill certain monsters. However, you only have a limited number of days to fulfill the legend. If you defeat too many monsters, you won't have enough time to complete the necessary tasks.
Anyone who has played the previous Andor titles will get into the game very quickly. But even newcomers need not fear the game. In general, however, I had the impression that the game was more complex than I remembered from the previous titles. Some elements and their use must be looked up during the game or read in beforehand. This slows down the flow of the game here and there. I would have liked a few more hints for the respective objects. In part, the game does that too. For example, a character that gives you two strength points in battle has a +2 printed on it. For example, there used to be a card with all the items and a brief explanation of their function. 
The problem with reviews
If you were just looking forward to the review, you can simply skip this section. But here I would like to briefly deal with the topic of reviews in general. I'll probably do that in more detail in a future post. But let's jump back a bit. The eternal cold was out and as usual with new games comes videos and reviews of the game. This time, however, there was a surprising amount of negative feedback. That surprised me a bit, because Andor is a big brand and has always been popular. Of course there can also be bad games or individual rules, materials or implementations in a game series that cause frustration, but the large number surprised me and I wanted to form my own opinion. It is similar Matthias (Cobo -Cooperative Board Games) in a video shown. He, too, had noticed the predominantly negative criticism and in the end he didn't find the game to be as bad as it was often portrayed. Of course the game has weaknesses and there are also some aspects that are worthy of criticism, but it's not such a flop as some have made it out to be. 
In general, we all have to question ourselves about our responsibility when we write a review. A review also contains the person's opinion, but it also claims to be more than just an opinion. In addition, we have a responsibility. To the people who read our posts and are considering buying the game. If we praise a game that has glaring flaws, a distorted picture emerges. Likewise, a game can be presented poorly without the game having bugs. Maybe the person was just having bad rounds or didn't always use the rules correctly. Even then the picture is distorted. Of course, we also have a responsibility towards the publisher and authors. We should try to present a game as it is. Of course, we also have to hide the fact that games were sometimes made available as review copies. A game doesn't get better just because you got it for free. So we have to rate it as we would if we bought it. If I had paid the normal price, would I be happy with what I got? Publishers should also take this into account and not only send Rezi copies to those who report benevolently about the games and blacklist those who express criticism. It is often the case that the publishers can benefit from the feedback. However, it is important that it is about feedback. At this point I would like to say briefly that I have gotten along well with all publishers so far and have not had any negative experiences. 
So reviews are not an easy topic and everyone who writes reviews needs to be aware of their responsibilities. It's probably very tempting to jump on a wave - if everyone thinks the game is bad, then it's definitely bad and a title like "worst game ever" is probably clicked more often than "the game is quite ok". Whether it is then still a neutral, factual review can sometimes be doubted. But also very clear: There are bad games! There is bad game material! And of course that must (may) be named. 
Nevertheless, a review must always be fair in the end. Granted the reviews The eternal cold, I, and apparently others too, had the impression that things were not always entirely fair here. Spoilers: Yes too The eternal cold There are definitely points of criticism and aspects that I didn't like. But it is by no means as bad as some echoes have said. When we write reviews, we should always consider the aspects mentioned and try to be fair. Since I came across this topic in this game, I wanted to include it in this post as well. In the future I would like to give the topic even more space. But back to the game.
The eternal cold
The adventure begins! There is a positive surprise in advance, because The eternal cold has material with which you can tinker an inlay. Finally no flying material like in the previous games? A little, because since the inlay is not firmly on the ground, cards or tokens tend to slide underneath. But the combination of bag and inlay works very well. Well-intentioned, not quite as well implemented, but in the end better than no inlay at all (one more small comment: inlays are always a cost factor for publishers, which in the end can also affect the buyer.).
The game material looks valuable as usual and we keep a variety of game material. Including legend cards, character standees, tiles and monsters. The heroes are the same that we already know from the previous normal games. There is still a male and a female variant of the figures: dwarf/dwarf, magician/sorceress, swordsman/swordsman and warrior/warrior. The Gors, the well-known standard opponents, are of course also there again. But a large number of new opponents and potential helpers are also ready for battle.
As known from the Andor games, there are instructions on how to start the game - I've always liked that a lot, because you can lead newcomers to the game very quickly. No eternal rule reading, but a comparatively quick start. Once the first legend really gets going, more new items and opportunities will come into play. While some objects are explained in a playful way (explanation is on the legend card), other objects have to be looked up in the instructions - this sometimes takes the flow of the game out a bit. 
The game has two game boards. A face required for the first legend, which is a winter variant of the familiar game board. A reverse side, with a new setting, a tent city and a large lake. Given that we only have four legends, I'm a bit conflicted. Yes, the first game plan could have been given more playing time. But many new game elements only unfold their potential on the back. If two legends had been played on the "old" and two new ones, I probably would have wished for more time on the new board. In the end it's probably just the desire for more legends ;). For comparison, the first part had 5 legends, the second, which was considered an expansion, 4 and the third 7. So we won't be overwhelmed with legends, but anyone who knows Andor knows that there can be expansions or fan legends that are played can be - Andor has a very large fan base. However, you pay for the game and you have to evaluate the material supplied and in the end you "only" get four legends. 
There are some changes compared to the other Andor titles. Instead of wells, there is now fire. These can be ignited with 2 willpower points and regenerate 5 willpower points at sunrise when you are on the field. You can now use firewood and willpower points to set up campfires on additional fields. After sunrise, however, the fires flared up again. For comparison, the fountains refilled at the end of the day and could be used (as long as no one was standing directly at the fountain). Here you can see that the difficulty has been tightened. 
In addition, the cold that lies over Andor means that the days are getting shorter and you can work less overtime. What sounds nice in professional life is quite annoying in a game that is very much about time management and completing tasks on time. The longer you play, the less time you have, just like the days get shorter in winter. Of course, there are also game elements that you can use to stop this cold. 
Where there were fog fields in the previous Andor titles, now there are snow fields. These also contain the annoying "blizzard" effect that moves the heroes along the arrows - this can sometimes be useful, but often costs you an extra movement. There is another difference in trading, because instead of buying the items, you now exchange them. So you have to collect something that you can exchange for the equipment.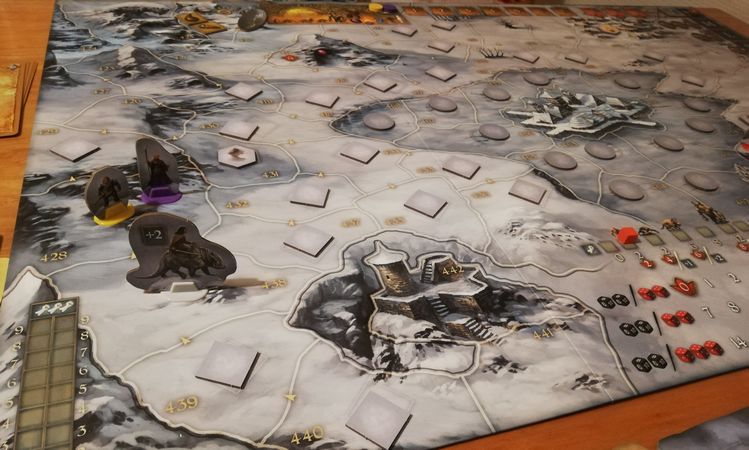 So you can see that an attempt was made to give Andor new, thematically appropriate elements. It stays close to the classic Andor game idea, but also brings in something new. If you wanted a lot of changes now, you would of course have to ask yourself whether it would make sense to run the game as an "Andor" title. Since it's Andor, it's clear that many elements will remain the same. And it's not surprising that if you haven't liked Andor before, because of the time management or whatever, you probably won't be happy with this game either. But that's in every game. There are always some who don't fit into the target group or who simply don't like a game. But then there are a lot of other games that can be fun. 
In the end got me The Eternal Cold liked. I generally like snow games, like Carcassonne's winter edition. I thought it was nice to experience new adventures in Andor again and to get to know the new game elements. But the game also frustrated here and there. So far we have completed three of the four legends and are a bit desperate at one point or another. Then suddenly one monster too many was defeated or in a fight we had such bad luck with the dice that it quickly became clear that we couldn't do more of the legend. But it must also be said that this try & error principle applies Andor part of it. So you will most likely have to (or may?) play more than 4 games.
I clearly see the fans of the game series as the target group here. Of course, it is also suitable for newcomers to enter the Andor universe, but I found the game to be more difficult than, for example, the first part. But that doesn't have to scare you away from the game, you just have to be prepared for it. If you don't have any experience with this kind of game, you'd probably prefer the first part.
If you want to play Andor on the go, you can find a contribution to the app game here "The King's Secret".
* = affiliate link. If you purchase via one of the links, we receive a portion of the purchase price as a commission. There are no additional costs for you, but you can support our portal by doing so. Last updated on September 7.12.2023, XNUMX / Affiliate links / Images from the Amazon Product Advertising API. Images from Amazon PA API.